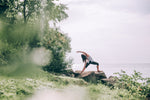 After reading Elaine Pierce's Deep Green Yoga it becomes clear that there is yet again more to be expound upon this ancient practice called Yoga. Elaine's method can be outlined to something to this extent : There are seven geometries that hold the circle of creation in balance. This knowledge of the seven geometries derives from a body of work by philosophers, astronomers, mathematicians and truth-seekers throughout the ages. The main principals in regards to Yoga are described as such: 
1) Few: Seven, compared to thousands of yoga poses. 
2) Holistic: You're working only with whole poses, not parts of poses, so the poses don't need to be taken apart in hopes of putting them back together. 
3) Universal: The principles apply to the whole practice, to all poses. They're not about a single pose or set of poses
These poses as well as her over all system gets delineated into great detail and is a great read for anyone whole is intermediate to advanced in practicing yoga.